Comodo Cleaning Essentials (CCE) is a set of powerful security tools designed to help users identify and remove malware and unsafe processes from Windows computers. Designed as a portable application, the software requires no installation and can be run directly from removable media such as a USB key.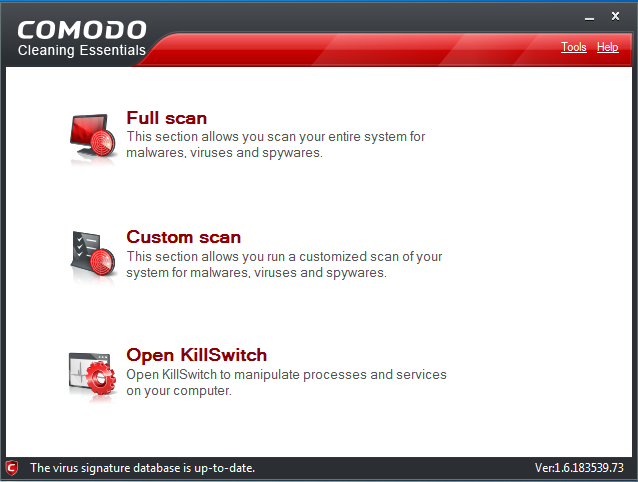 Best thing about Comodo Cleaning Essentials is that its portable and light weight. So, you do not need to install the software to use it. Also, you can carry it with you on any storage device like USB drive. Users can quickly and easily run scans and operate the software with the minimum of fuss.
CCE consists of two core technologies:
KillSwitch: An advanced system monitoring tool that allows users to identify, monitor and stop potentially unsafe processes that are running on endpoint systems.
Malware scanner: Fully featured malware scanner capable of unearthing and removing viruses, rootkits, hidden files and malicious registry keys hidden deep within a system. The scanner is highly configurable, uses the latest heuristic techniques to detect previously unknown viruses, features first-class malware removal capabilities and is capable of detecting hidden drivers and services loaded during system start-up.
Supported Operating System:
Windows 7 (Both 32-bit and 64-bit versions), Windows Vista (Both 32-bit and 64-bit versions) or Windows XP (Both 32-bit and 64-bit versions)