Windows 8 Weather App is an useful application. You get weather details of your location and other locations right on your desktop.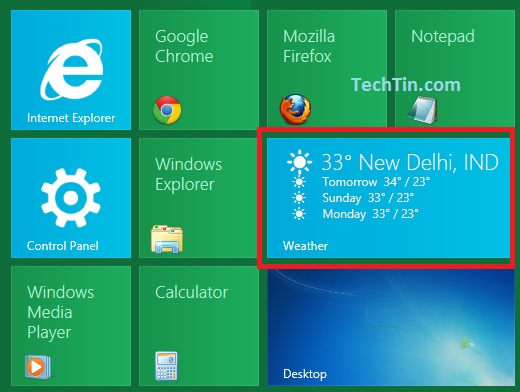 How to open Weather App
The Weather App appears in Windows 8 Metro start screen. It shows weather summery of your location. To see detailed weather information, click on the Weather App.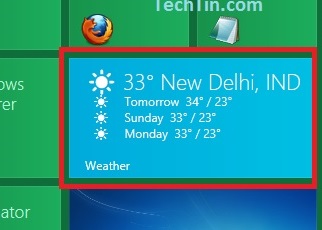 How to show temperature in Fahrenheit or Celsius
The weather app can display temperature in Fahrenheit or Celsius. You can select your unit.
Open Weather app.
This will open settings pane of Weather App in right side.

Now select your temperature unit. You can select Fahrenheit or Celsius temperature unit. After selecting temperature unit, click back arrow button.

How to get hourly weather details in Weather App
By default weather app display weather details of today and next 5 days.


But you can set weather app to display hourly details.
Open weather app.
Right click anywhere on the screen. This will open more options of weather app at bottom.

The weather app will now display hourly weather details (at interval of 3 hours).

How to see weather summery details of all cities
You can see weather summery of all cities in your list. From more options pane, click summery view icon.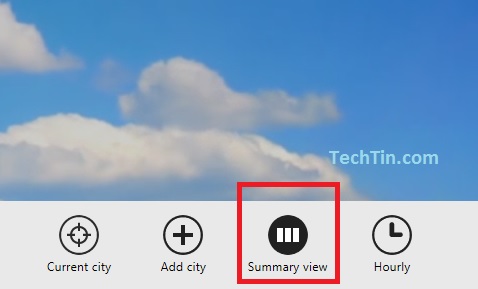 Weather App will now show weather summery of all cities in your list.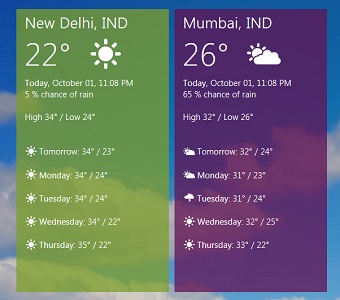 How to add a city in weather app
You can add remove cities from weather app. Weather app will display weather details of cities you have in your list.
Enter your city name. The app will search matching city.

Select the matching city to add in weather app.
How to remove a city from weather app
Go to weather details of that city. Now open more options pane and click "Remove City" icon.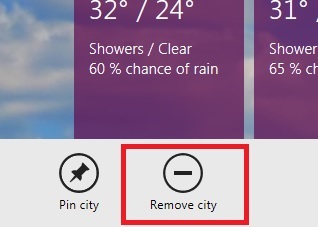 How to change city of start screen
The weather app will display weather summery of location which is pinned on start screen. To change the location / city of weather app start screen, simply pinned the city / location which you want.