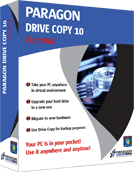 Create a virtual clone of your PC, including operating system, drivers and settings, all your applications and files. Save it to the USB hard drive and use it on another computer, just as if you're working from your own PC.

Use Drive Copy Personal to easily migrate to new hard drive or even different hardware without reinstalling, create backup images of your hard drive, perform basic partitioning operations and even more.
So, using Drive Copy 10 Personal you can carry your PC in your pocket! Use it anywhere, anytime!
What is Normal Price of Software
Normal price of Paragon Drive Copy 10 Personal is $29.95
How can I get it Free!!
For only 25th May 2010, you can get it free here.
Where can I read more about the software
The best place to read everything and know more about software is on its official website here