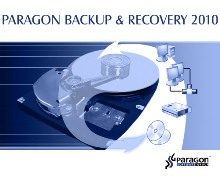 Paragon Backup & Recovery 2010 is a Complete and Reliable Backup. Take complete control of your PC's safety. Based on solid commercial backup and recovery software from Paragon, the new Backup & Recovery 2010 Free Advanced Edition will give you a rich set of features that you can trust.
Important features of Paragon Backup & Recovery 2010 Advanced
Support for the latest Windows 7
Complete Backup – Create an exact copy of your PC including the operating system, applications, user settings and all data
Differential Backup – backup only changed data
Backup Scheduler – plan your regular backup
Backup to FTP servers – provide a new level of the system and data protection
Backup Capsule – you can place a backup image to a special secured place on the hard disk called the Backup Capsule and get additional level of security to all archives which it contains
Any backup destination – including external storages, CD/DVD/Blu-ray discs, network as well as the secured hidden partition (Backup Capsule)
Automatic data exclusion – automate the process of building up contents of the future backup image, by excluding irrelevant data such as movies, music, etc.
Support for GPT (GUID Partition Table) disks – back up and restore not only single GPT volumes but entire disks with the option of resize during the restore operation
P2V Migration – Migrate a physical system to a virtual environment by converting all installed software and data into a virtual disk of the required virtual machine
Cyclic Backup – complete infrastructure for establishing a self-acting data protection system.
Complete Restore – restore your computer to an earlier state without losing data and reinstalling and reconfiguring your programs
Restore an entire disk, separate partitions or only files you need from the previously created backup image
Restore with Shrink to restore a backup image to a free block of smaller size taking into account only the amount of actual data of the image
Read more about the software on its official website: Backup & Recovery 2010 Free Advanced
Download Backup & Recovery 2010 Free Advanced for FREE!