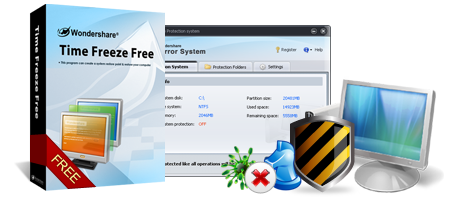 Wondershare Time Freeze is an easy and effective virtual system freeware to keep your computer safe from viruses, spyware, and other malicious threats. It puts the actual system under protection and creates a virtual system partition, on which you run applications and surf the internet. All traces and malicious threats will disappear after reboot. You can also save changes to the actual system.
Effectively protect your privacy:you can disable access to selected folders or prohibit others to make change to files in protected folders.
Safe from virus: keep your files and folders completely safe and clean. It is recommended to use System Protection and Folder Protection together to keep your computer safe.
Access Password Protection Manage the program with a custom password setting Keep inexperienced users from making change to your settings and configures.
Free, Easy-to-Use and Effective It is easy switch between real system and virtual system, differing from other virtual system tools. With Wondershare Time Freeze, you don't need to reboot computer to go back to actual system, just exit the system protection mode. You can save or discard virtual system data freely.
Supported OS 32-bit Windows XP/Vista/7, Windows2000
Read complete details about the software on its official website: WondershareTime Freeze Free