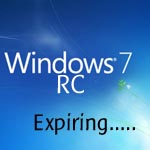 Most people like me are still using windows 7 because of many reason. But its time to buy a genuine version of windows 7 because Windows 7 RC (Release Candidate) will expire on 1st March, 2010.
Will my Windows 7 notify me about its expiration date??
Yes, Windows 7 RC version user will get a notification on February 15th about expiration date which is 1st March, 2010.
What will happen after 1st march 2010.
Your windows 7 PC will begin experiencing bi-hourly shutdowns. These shutdowns will continue through June 1st, 2010. During these shutdowns, your work will not be saved. On June 1st, 2010, a non-genuine experience is triggered where your wallpaper is removed and "This copy of Windows is not genuine" will be displayed in the lower right corner above the taskbar. This means your PC will no longer be able to obtain optional updates or downloads that require genuine Windows validation.
How to avoid this
You should buy a genuine version of windows 7 before 1st March 2010. Alternatively, you can also use Windows 7 Enterprise 90-day Trial. The trail download is currently available on TechNet for free and require only a windows live ID. But I am not sure how long this trail will be available for download as Microsoft will now try to force Windows 7 RC users and Trail users to buy full version.