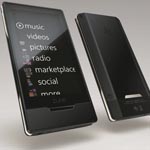 Microsoft has slashed price of zune HD to boost its sale and give more competition to Apple iPod. The price of 16GB Zune HD has dropped from $220 to $190, and the price of 32GB Platinum Zune HD has fallen from $290 to $250. Now the price of zune HD is very less compared to Apple iPod.
If you compare the price of zune HD with Apple iPod, you will find Zune prices is cheaper and offer almost double
storage capacity. Like price of 16GB zne HD is $10 less than price of 8GB Apple iPod.