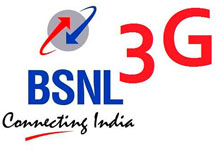 Bangalore is India's 242nd city to get BSNL 3G service. BSNL started the service on 19th feb 2010. BSNL claim to provide download speed upto 3.6Mbps, but people using it says speed is around 2 Mbps.

Download speed is around 2 Mbps while the upload speed is around 300 kbps. Price of SIM card is RS. 59
How to purchase New 3G activated BSNL SIM
Visit your nearest BSNL circle office, Fill up the form and submit with your ID proof. Price of new SIM is Rs. 59/-
How to get FREE 3G activated BSNL SIM
If you already have a BSNL landline, you can get the new SIM for free. You may receive the offer with your new bill.
After getting SIM, get some balance using easy recharge. Wait for 24-48 hours to get SIM activated. Many people got SIM activated in 10-12 hours only.