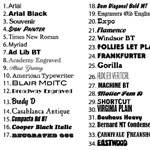 Many windows 7 users face this issue. The input font size on web pages becomes very small. Although the webpages appears fine, but if you enter anything like user name, password or fill a form, input fonts become very small. The problem is common on all browsers.

Follow the below steps to solve the issue:

Step 1:
Check the problem on all browsers, IE, FireFox, Chrome, Opera
If its problem with any particular browser, just rest all settings of that browser.
Step 2:
This problem is mainly caused by use of any third party non-compatible theme.
Right click on your Windows7 desktop >> Personalize >> Theme
Select one of the Standard Themes that come with Windows7 like Aero or a Windows Classic Theme.
Also, uninstall any theme software if you are using like Windows Blinds or AlienGuise and restart windows 7.
Step 3:
If after using default theme also, problem is not solved, probably your windows 7 is missing Arial fonts. There are 11 Arial fonts installed on windows 7.
Download below zip file, unzip the fonts and paste the fonts in:
Control Panel >> Appearance and Personalization >> Fonts
Download Arial fonts for Windows 7
Your problem should be solved now. Please let me know if your problem is still not solved, or you know any other fix of the problem.