Windows Operating system comes with a very handy inbuilt tool "
Disk Cleanup
" that helps you to free up space on your hard disk to improve the performance of your computer. The tool identifies files that you can safely delete, and then enables you to choose whether you want to delete some or all of the identified files.
Using Disk Clean tool in windows 7 is easy to use and just need 2-5 minutes to complete cleanup task.
What files are deleted using Disk Cleanup:
Remove temporary Internet files.
Remove downloaded program files (such as Microsoft ActiveX controls and Java applets).
Empty the Recycle Bin.
Remove Windows temporary files such as error reports.
Remove optional Windows components that you don't use.
Remove installed programs that you no longer use.
Remove unused restore points and shadow copies from System Restore.
How to use Disk Clean up in windows 7
Step 1
Open Computer (Start >> Computer).
Step 2:
Right Click the drive (like C:\ Drive) on which you want to perform disk clean up and select "Properties".
Step 3:
Click "Disk Cleanup" button.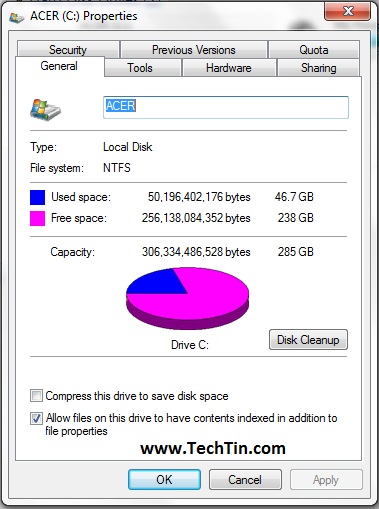 Windows will take few seconds to find files safe for delete and will show you files which are safe to be deleted.
Step 4:
Check boxes for files that you don't want to delete, and then click OK.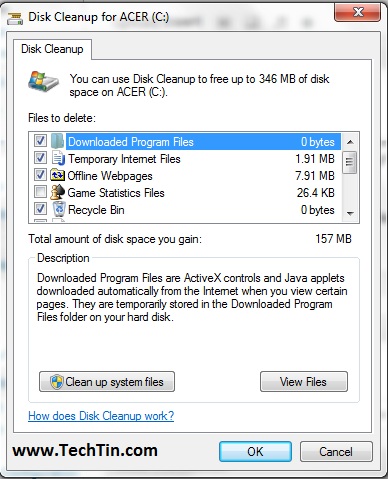 Windows will ask your conformation. Click "Delete Files" button.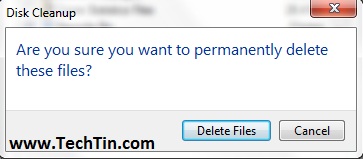 Windows will take few minutes to delete the selected files.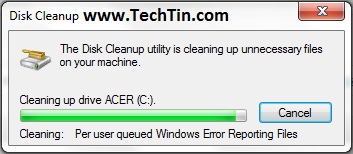 After a few minutes, the process completes and the Disk Cleanup dialog box closes, leaving your computer cleaner and performing better.
Perform the same process for each drive.