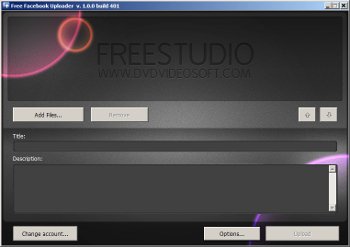 Free Facebook Uploader is a free tool which let you upload and share images and video from your desktop to Facebook easily.
Free Facebook Uploader perfectly suits everybody who is constantly using Facebook and who would like to have more videos and images in their account, share and discuss them with their friends.

The program is very simple in its usage. After getting through rapid installation process, you just open the program and browse for videos or images you want to upload to Facebook.
You need to log in to your Facebook account in order to be able to upload media with Free Facebook Uploader. The program will prompt you to log in and then will proceed to uploading. Within a couple of minutes the uploaded videos and images are available in your Facebook account.
Download Free Facebook uploader
How to use Free Facebook Uploader