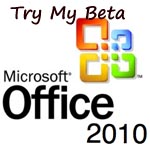 Microsoft Office 2010 is almost ready to release its RC version, but currently you can try its Beta version for free. intoTry Microsoft Office 2010 Beta Free. Office 2010 has many new features, it gives you powerful new tools to express your ideas, solve problems, and connect with people. Office 2010 lets you work how, when, and where you want, letting you get things from a PC, the Web, and even a smartphone.
Office 2010 will include following products.
Word, Access, PowerPoint, Publisher, Outlook, InfoPath, Excel, SharePoint Workspace, OneNote, Communicator.
I have not used all the products of office 2010, but new version certainly has many good features.
Want to know what's new in office 2010 ?? Read here about each product.
want to try office 2010 beta!!
Download Microsoft Office Professional Plus 2010 Beta (For enterprise and mid-sized business).
Download Office Professional 2010 Beta (For small Office, Home and School).