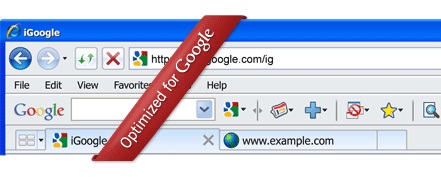 Google is promoting new IE8 browser. Google says it "IE8 optimized for Google". But there is nothing special, its just IE8 with Google toolbar pre-installed. Default search engine of browser is pre set to Google instead of Bing.

What does "optimized for Google" mean?
A Google homepage you can personalize
Preinstalled Google Toolbar
Your default search engine set to Google
Accelerators for easy access to Gmail, Blogger and other sites
Where can I download IE8 optimized for Google
You can download it from Google website here
Any drawback of IE8 optimized for Google
It has all good things and bad things of IE8 with addition of Google toolbar. The major drawback is that, it don't support window7 operating systems. Internet Explorer 8 optimized for Google is only available for Windows XP and Vista.