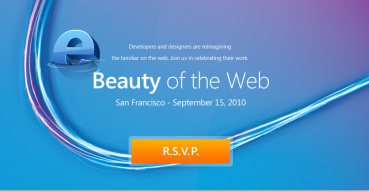 Wait for IE9 is finally going to over. Microsoft has announced the release date of IE9 beta on 15th September, 2010 at San Francisco. Microsoft is launching IE9 in a special event named "Beauty of the Web" which is to be held in San Fransisco. Selected group of VIP web developers, designers, bloggers and press are being invited for the event.
The announcement was published on
WindowsTeamBlog
IE9 has got huge response through its Internet Explorer Platform Preview.
So, lets wait for 15th September to see IE9 in action.