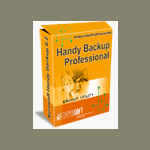 I am pleased to announce that Novosoft has provided TechTin two license of full version of Handy Backup Professional worth $99.
Handy Backup is an award-winning and top 10 rated backup software for home and small to medium business environments.
Handy Backup™ Professional is a powerful backup solution for normal PC users, advanced PC users and small businesses with Microsoft Windows®-based IT-infrastructures. It provides a range of security and business-critical features:
Disk image backup. This function creates complete hard disk drive backup including the operating system, all applications and settings, so the system backup can be quickly restored after a failure.
Secure backup transferring In addition to backing up to DVD/CD, LAN and FTP, the utility can back up to SFTP servers.
Database backup. The application allows you to back up database tables without stopping the service (hot database backup), using ODBC connectivity.
Backup options. You can enable automatic backup encryption and compression, to make all backup procedures comply with your company's security and data handling requirements.
Task-based interface. All backup, restore and data synchronization tasks can be scheduled and configured to run as Windows service, which makes all backups unnoticeable and not interfering with the work.
A rich set of features makes Handy Backup Pro a perfect backup tool for desktops, laptops, servers, and even small networks.
Where can I read more about its features and benefits
You can read more details on its website here
How can I get a free license of Handy Backup Professional
Unfortunately I don't have many license keys to distribute free. I have only two licence key of Handy Backup Professional. All you need to do is just post below a comment and I will randomly select two lucky winner.
Please use correct email address, because I will send you license key to your email ID.
Cheers 🙂